Invasive weed control for your home or garden?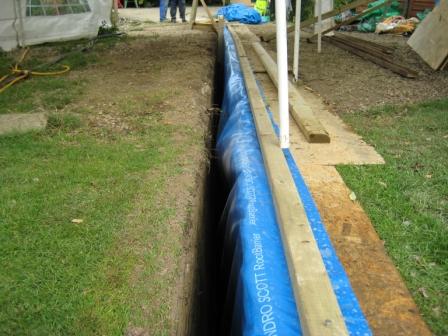 Is your home at risk from damage caused by tree roots or Japanese Knotweed infiltrating your property? Our root barriers are not only for large projects, they can be used in small residential projects. Root barrier is perfect as an invasive weed control, as it stops root systems from spreading and attacking building foundations, damaging essential underground services, like pipes, cables and drains and even getting inside your house.
We sell DENDRO-SCOTTTM Root Barrier in rolls from 1m x 10m in size, perfect for residential use.
We also partner with Drain Scan, a specialist solution for drilling narrow trenches, which makes it easy to install root barrier membrane with a very low impact to the surrounding area.
Japanese Knotweed Treatment
If you are local to the Morden area in South London, we also offer a Japanese Knotweed Treatment service, where we visit your property and inject the stems of the plant with herbicide to prevent the rhizomes spreading further. It is specific treatment for Japanese Knotweed.
For local Japanese Knotweed treatment please don't hesitate contact us for help or with any questions.