Get a quote for root barrier or any of our services
Root barrier
Root barrier is available in rolls and folded sheets as standard, or large custom-sized sheets. We quote for root barrier according to your project, so please call us.
You may joint pieces of DENDRO-SCOTT™ Root Barrier to fit the area you require, which involves cutting and jointing the membrane using double-sided butyl tape and a roller. Additional cover tape for sealing around pipework is also available on request.
Notes:   Jointed sheets lose approximately 0.05m on overlapped joint, i.e. 3m x 50m = 2.95m x 50m.
Tolerance margin of 0.02m is allowed, due to manufacturing process.
Please note that prices shown are subject to VAT and carriage. Carriage costs are dependent upon weight, dimensions and location.
Tree Ventilation and Irrigation
Our specialist tree ventilation and irrigation system is available to order.
Please see the product list and installation guidelines here.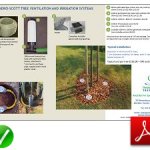 Consultancy
Please contact Peter Scott F.Arbor.A. M.E.W.I. regarding arboriocultural services.
Tel: 01752 869 059
Email: peter@rootbarrier.com